Frontier Airlines: How to Beat the Worst Airline in America
December 9, 2015

0 Comment

Posted by

Eric Diaz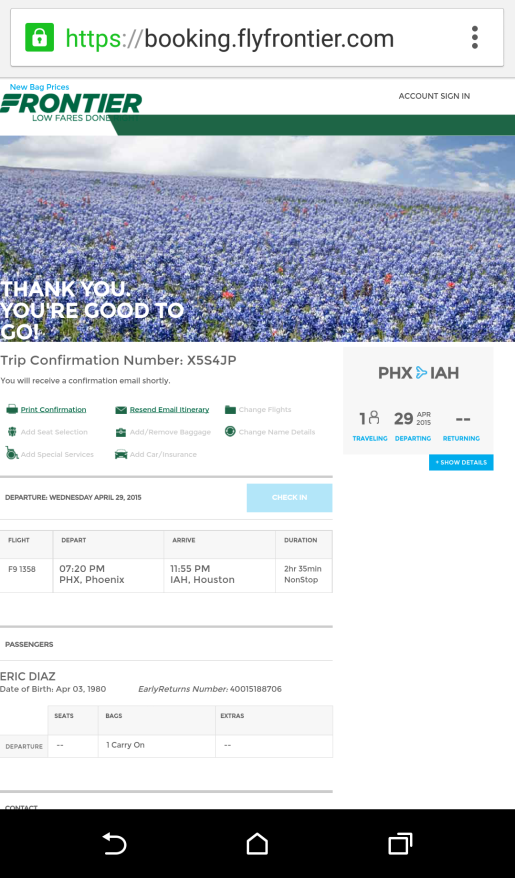 There are many bad airlines these days, and very few good ones. The only good one that I know of is Southwest. Below are details of my horrible experience from flying with the worst airline in America (Frontier Airlines), but the main point of this article is for people to know they can fight back and win when Frontier rips them off.
How Frontier Rips off Customers:
Frontier sells substantially more seats then they actually have on the plane. To still make money off the seats that are oversold they have a strict policy that prevents people from checking in if there is less than 46 minutes before the flight, even if they are not checking a bag.
What You Lose:
You miss your flight and $150 to re-book another flight (if available) when this occurs.
How to get your money back:
You will want to file a complaint with Frontier, but only so that you can show your credit card company that you attempted to resolve the issue on your own. Frontier will not even consider refunding you. As soon as you have your rejection from Frontier Airlines, contact your credit card company to request the refund. Tell your story about how unfair their policy is, (see my example in the appendix below), and they will first provide a provisional credit. After they review the facts, they should make the full refund permanent as they did for me (see my example above).
How Frontier Airlines Tried (but failed) to rip me off – Full Details:
I arrived nearly 50 minutes before my flight via Frontier Airlines destined for Houston several months back. I was confident to fly without hassle as I didn't have any checked bags and I was in one of the most efficient airports in the country, the Phoenix Sky Harbor Airport, where security lines are rarely over 10 minutes. All I needed was my boarding pass which for whatever reason, Frontier Airlines would not provide when I had checked in online the previous day. The website instructed me to print the boarding pass out at the terminal the day of my flight. I had been annoyed, but did not see any harm coming my way.
As I arrive to the terminal kiosk, I fiddled with the machine for a few minutes which also gave me issues and produced no boarding pass. Now in line, by the time a scarcely found employee from Frontier actually attended to me, I was still 45 minutes ahead of my scheduled flight. The employee told me that their flight cut off time was 45 minutes prior to takeoff and that she could not print my ticket. "You will have to catch the next flight tomorrow," she stated to me coldly.  I could tell from her nonchalant expression that she likely tells this same story to dozens of people each day, and has grown this emotionless expression from a culture of disappointing customers. I explained to the stern Frontier customer service woman that I was right here, right now and that all I needed was a ticket as I would easily make it through security. She refused. In fact her supervisor refused as well. Not only this, but during my dispute, approximately 7 other people had arrived who were with the same issue I had.
Finally, accepting defeat, I hustled to another terminal to see if I could catch the last flights to Dallas from any other airline. Unfortunately all flights to Texas from Phoenix leave no later than 7:20 p.m. So the flight that I needed to catch via Southwest was now only 25 minutes from departure and was a full terminal away. I hustled as I really needed to make this flight for a business meeting in the morning.
Arriving to the Southwest gate, I told the friendly customer service person my horror story and he said, "Let's see what we can do," with genuine concern in his eyes. He said he could sell me a refundable flight but he could not guarantee I would be able to get on as we were only now less than 20 minutes from the flight taking off. I said, "Let's do it," and he sold me the ticket. I rushed through security which was minimal (as is typical) and made it to the gate with a few minutes to spare, 12 minutes before my flight. No problem at all.
Several days later I call Frontier Airlines customer service and explained their refusal to give me my ticket 45 minutes before my flight. I told them how it was easy for me to get on my flight with Southwest even though I had to switch terminals which is complex. They sent me a boilerplate message that said that they would not refund my ticket because that is their policy. No exceptions granted.
I called their customer service hoping to find one person at Frontier with compassion but had no luck and received the same uninspired response. Finally, left to my last chance I called my credit card company to explain to them the details. I sent them screenshots showing the time that I checked in to my flight the day prior, and explained the verbal exchanges at the ticket counter with Frontier agents. They gave me a temporary credit while they research the issue with Frontier. 30 days later I had a full refund for my frontier flight. So the good guys can win….Yes!
Resolution: Don't Fly Frontier Airlines
I had heard that Frontier plans to sell more tickets in than can board their flight, and that my situation was by no means uncommon. In fact a friend of mine who works in the fuel accounting department told me that customer service really isn't a priority for the low fare airline. They have even found that people writing negative reviews swearing they would never fly Frontier again would wind up showing up later again in their airline purchase history. My early new years resolution is that Frontier Airlines will not see my name again in their purchase history.
Appendix: Complaint letter to Frontier Airlines Template
To whom it may concern,
Please note that Frontier Airlines forced me to miss my flight on [insert date] as they said they could not print me a boarding pass as there were only 45 minutes left before the flight and that was their cutoff time.  I explained to them that I had checked in the day before and had no luggage to bring on.  I told them that the on-screen confirmation told me I would receive an email with boarding pass but that it never arrived (see print out of check-in).  The agents still refused to print me a ticket.  After 20 minutes of pleading with them to print me a ticket I was forced to pay $378.00 for a same-day Southwest Airlines ticket to Dallas..
This company is a customer service nightmare.  Their business model is to oversell their tickets, not allow some people not to fly and still make money on all tickets sold.  At least 4 other people arrived after me for the same flight and all were told they would not be allowed on the flight either.  Frontier has a reputation for ripping off customers, see here from the Houston Press: http://ht.ly/NTBrt.
I am requesting simply to be refunded the $170.00 I paid to Frontier for a flight they would not allow me to board. I am still out a net $200.00 as my Southwest flight cost $378.00.
Thank you very much for your understanding,
Eric Diaz