Gladiator Run on St. Patricks Day
March 21, 2012

0 Comment

Posted by

Eric Diaz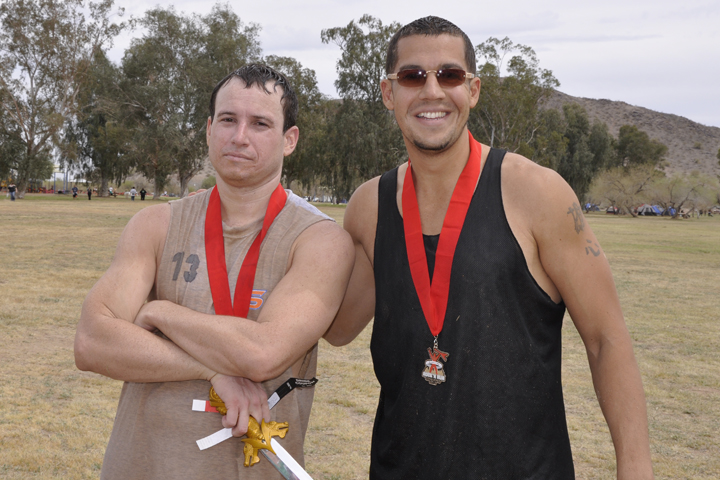 So to start off St Paddy's day, a buddy of mine and I decided to run the Gladiator run in nearby Goodyear, AZ.  The course is not long (5K) as is standard for this type of obstacle laden course, but it was not necessarily easy.
Of the obstacles I remember, they were:
1. Walls to climb and hop over
2. Walls to climb with a knotted rope
3. Hamburger Hill (large inclined hill)
4. Hay Stack climbs
5. Giant spools
6. Mud pits to slosh through
7. Ice Water Pit
Cargo rope climb
8. Spider web to crawl underneath
9. Tunnel to crawl through on elbows and belly
10. Dumpsters to climb in and out of
11. Fire pit to hop over
All obstacles: http://www.gladiatorrocknrun.com/event_march_17.html#theCourse
I ran on a slightly swollen ankle, I sprained it 10 days ago playing basketball, but felt comfortable that I could run it if I wore a brace and was careful.  Needless to say, I didnt set any records that day but still had a competitive time.
Overall I thought the race was a bit overhyped.  I would never pay $65 to do it which is there asking price.  I only did it as they had a Groupon deal for half price.  Also, there were about 3-4K people which was really too many for this small track.  We waited 45 minutes to get parked in the morning, and then at the beginning of the race, there was a 15 minute line before the 3rd obstacle.  Also, there were so many people walking it was hard to get around them on the narrow track.  Afterparty was forgettable as well.  Ill probably pass on this one next year.
Here's the photo group from the event: