Deceiving Diverse Buyers – How Rocket Mortgage Extracts Wealth from the Community
May 6, 2021

0 Comment

Posted by

Eric Diaz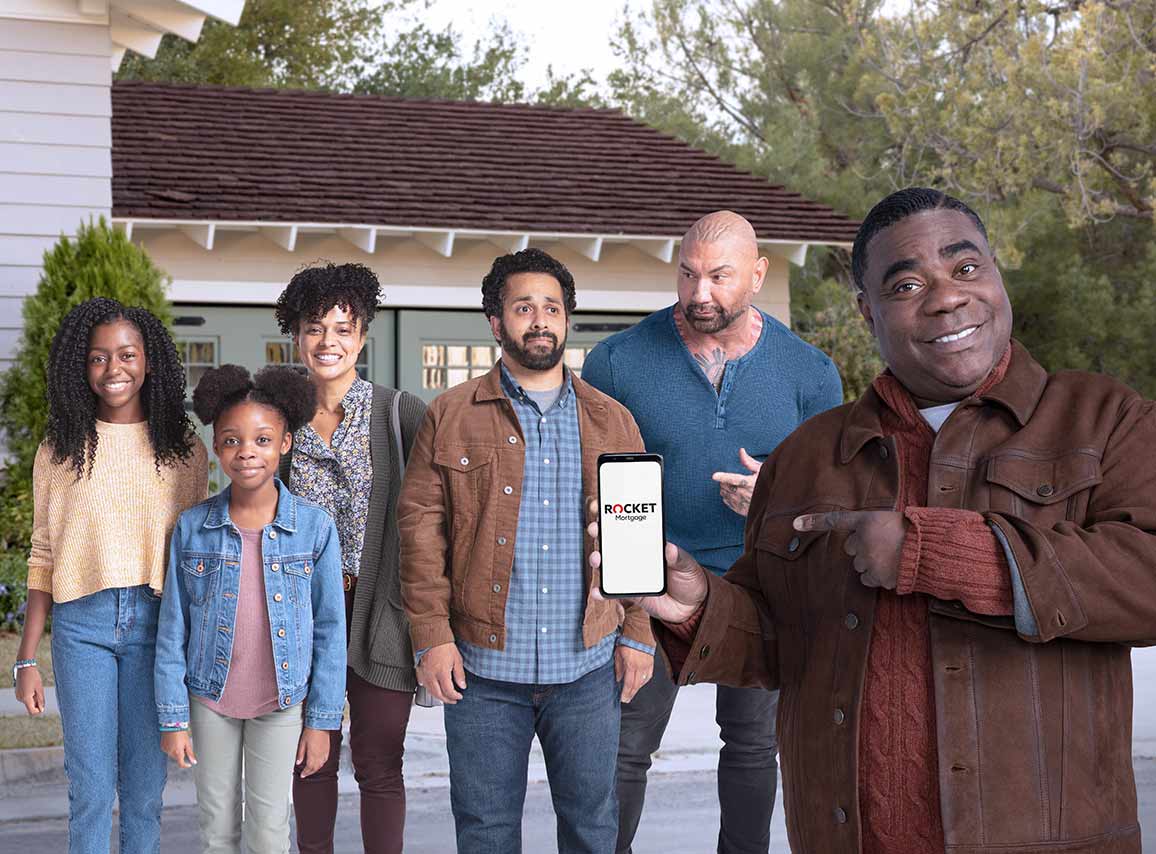 I've always been wary of used car salesman.
As a teenager walking used car lots in Columbus, Ohio I figured out quickly that they were bad news. The more shoddy the Grand Prix, Cutlass, or Regal, the more these fully-suited merchants were going to try to hustle out of me. At the same time, in 1996, the movie Fargo premiered in which the antagonist William H. Macy plays a classic used car salesman who attempts to rip off his customer for an extra $500. After a bit of smoke and mirrors where Macy fakes an attempt to help the buyer in a meeting with the car dealership's sales manager, the customer winds up getting cheated for an additional $400. So now, 20+ years after these first lessons, I continue to loathe deceitful salespeople.
Brainwashed during the NBA Playoffs
When buying a house with my fiancé a few months back, I realize I had undeniably been watching far too much NBA basketball on streaming television. The same commercials were pumped into my head over and over and over. When I needed a pre-approval, I automatically went to Rocket Mortgage. Why wouldn't I? I had seen their commercial at least 45 times by my estimate, and everything sounded fine as far as how quick the process would be. Now, I'm not a rookie when it comes to buying a house, and I knew that for the moment, all I really needed to show the home-seller I was serious was a pre-approval letter, which based on Rocket's repeated messaging, seemed would be resolved quickly. I was right, within a few days I had the pre-approval letter from Rocket in hand and we started to shop for a house with that.
The experience at this point was fine, and we were happy with the terms offered. In our phone and email conversations with a Rocket President's Club Banker (yes, that is the title they use), there was zero mention of additional fees such as mortgage points. However, over the next weeks, we did realize that details provided by the President's Club Banker were partially inaccurate and omitted information we requested. However, we stayed with the company as we felt that the Quicken Loans (owner of Rocket Mortgage) brand's overall reputation would provide us a satisfactory experience.
As soon as we came to terms with the seller, I needed to look at rates a bit deeper. We compared the rate/terms (2.99% and no points) with our independent mortgage broker, who confirmed that Rocket's mortgage offer matched the best terms he could provide us, which also had no points.
Satisfied with that, we decided to pursue the loan with Rocket. On a Saturday morning, we had a call with our new Rocket banker and this is when the relationship went south. During this hour-long call, the banker walked us through updated documents that contained the full terms of the loan. I quickly noticed a line item that was large and unfamiliar. There was now a $4,800.00 line item for mortgage points on the Rocket terms of the loan.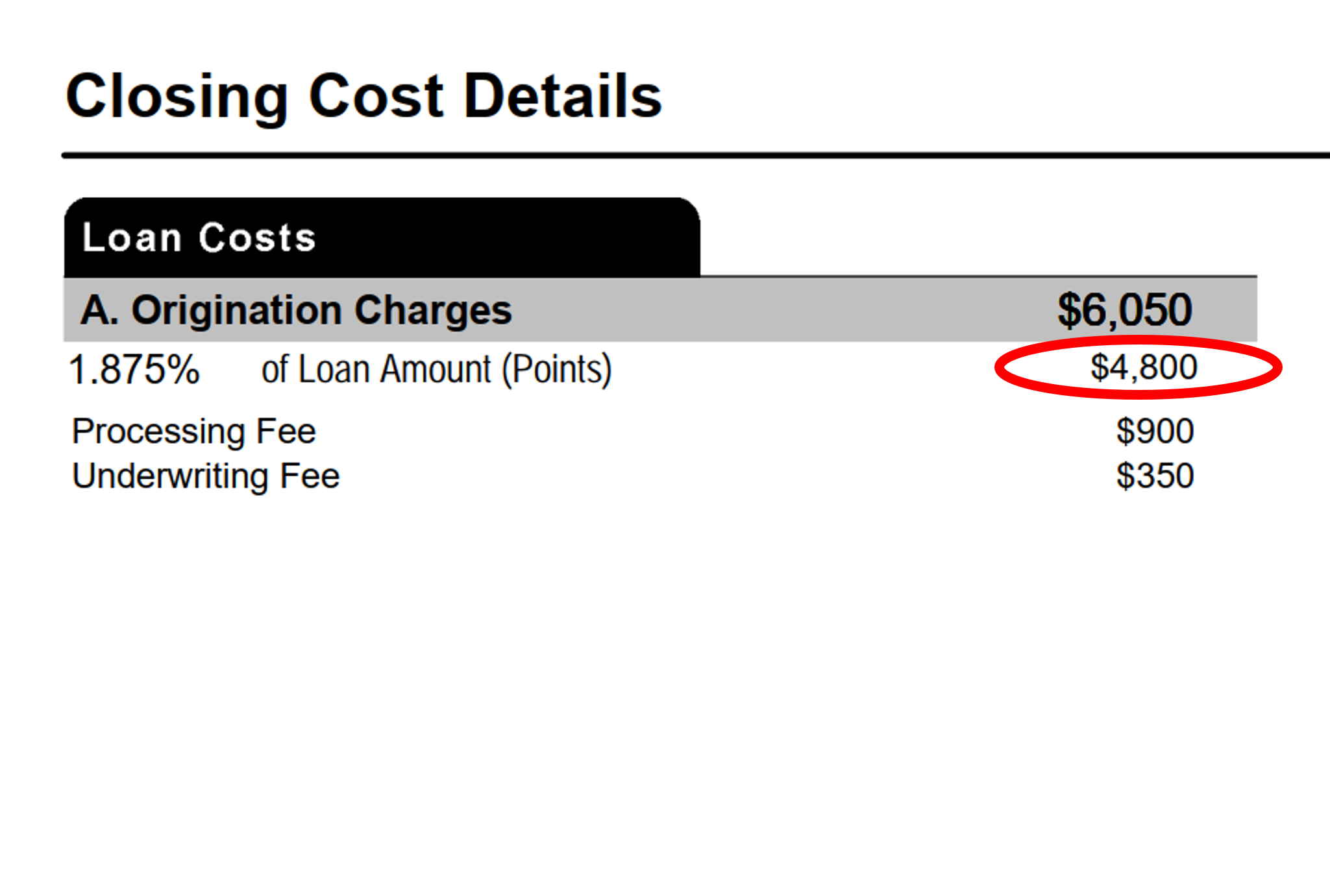 How Rocket Mortgage Deceives Diverse Consumers
As seen in the screenshot above, it was a $4,800 line item for mortgage points. After reviewing the document thoroughly on the call, I asked the banker about the new $4,800 fee. He responded that those were simply the mortgage points that my fiancé and I were buying to obtain a lower rate of 2.99%. I responded in complete surprise that mortgage points had never been mentioned in any of our previous discussions with any member of the Rocket team and that this was the first we heard of this fee. The timing could not be worse either as we had just entered into contract on a property and were now in a crunch to arrange financing and close the transaction within 30 days. The banker stood firm and added that a mortgage points fee of $4,800 was a standard process for Rocket. When I balked at this explanation and threatened to pull the deal off the table, he said that he would get on the phone with his Vice President and see what he could do. As we waited on hold for him to make this call, we wondered what was actually happening behind the scenes. We pondered if a phone call was even taking place or if this was merely a sales tactic similar to what I had seen so many years ago at the movies.
When the banker returned to the line, he stated that he had spoken to the Vice President and was able to lower the fee, reducing our total additional mortgage points cost to $2,500. He told my fiancé and I that this was the best we could do and that all other banks would do the same. As we were still hesitant to pay an additional $2,500 more than had been discussed before, he finalized his pitch by telling us that his Vice President's offer was contingent. We would need to accept the offer by providing our debit card for a $500 lock fee by the end of that day, or else we would have to pay the full $4,800.00 as before.
Reluctant and feeling as scammed as that naive young kid in a Columbus car lot, we signed and paid the additional fee.
Getting Out of Rocket's $4,800 Surcharge
Was the Rocket banker correct? Would the other lenders obtained by my broker also add points to our loan? With a bad taste in my mouth, I called my broker and told him what had happened.
My broker quickly confirmed that the banks he works with would not add these fees unless they had been clearly discussed previously. He stated that he had heard of high-pressure tactics among some bankers and that Rocket had indeed duped us. Now very unhappy, I sent an email titled "Please Hold on Processing of Our Loan" to the Rocket loan team as this loan was now off the table.
The email proved effective as I shortly received a call from the Director of Mortgage Banking who removed the entire $4,800 fee. The Director stated that Rocket bankers should have discussed the mortgage point fee with us from the beginning.
Finally, we were back to obtaining a 'fair' mortgage. We closed the loan shortly after and moved into the house. However, while my fiancé and I's loan finally did work out, I can't get over the awful feeling about how many customers get swindled by slick bankers at Rocket/Quicken Loans. These are first-time homebuyers that are getting deceived by a large financial corporation.
Correspondence with Rocket
I reached out to Quicken/Rocket to let them know about my experience with their employees, and two months later they refuse to acknowledge any wrongdoing. This surprised me as I have worked with Quicken in many capacities as a small business owner and did not believe that this reputable company would allow its employees to perform in this manner. I asked their corporate customer experience department to address my concern and prevent our experience from happening to other home buyers, but they continue to deny that Rocket Mortgage deceives diverse consumers.
Fighting the Giant
Anyone who knows me well knows that I am not taking this lying down. I have already filed a complaint with the Arizona Department of Financial Institutions requesting an investigation into how Rocket Mortgage deceives diverse consumers. If this is successful, Rocket could lose its license to do business in Arizona. This would be a huge win for 8 million consumers, although the other 49 states are still in obvious peril.
As of April 2021, Rocket continues to actively deny all wrongdoing in this case, and since none of the employees involved have admitted their dodgy roles, it will be admittedly hard for me to prove their deceitful activity. That being said, I resolve to share my experience on as many public reviews and watchdog websites as possible to keep fellow homebuyers aware of how this shady company operates. While searching online for answers, it was truly sad to see how many other home buyers have an unsatisfactory experience with Rocket. For example, on Amazon Reviews alone, Rocket has a 1.2-star rating out of 5 based on 159 reviews as of May 2021. Six of those reviews specifically mention 'bait and switch' tactics used by Rocket Mortgage, so I know I am by far not the only one.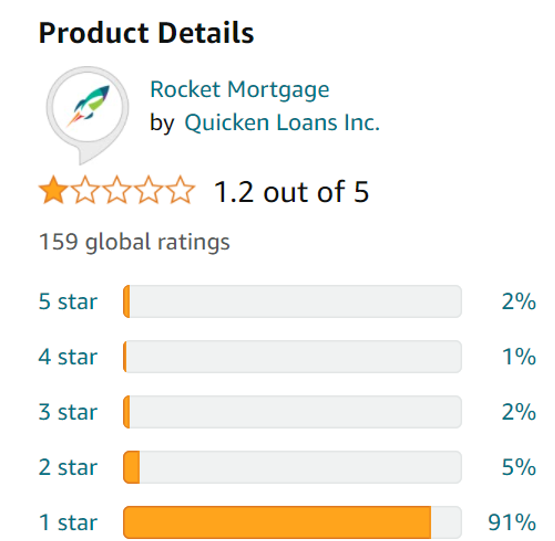 Here are several other websites where I have shared my experience about how Rocket Mortgage deceives diverse consumers.
How Rocket Mortgage Deceives Diverse Consumers
I firmly believe that Rocket specifically targets black and brown communities in the U.S. based on their advertising target audiences. I work in the marketing field and it is commonly known that placing media during the NBA Playoffs will reach an audience that is highly over-indexed with Black American and U.S. Hispanic consumers. These groups have less financial education and are easier prey for a savvy fin-tech company such as Rocket. I am hardly the first to accuse Rocket Mortgage of abusing diverse consumers, see examples below:

How Rocket Should Advertise
At least with a car salesman with their cheesy suits and questionable merchandise, you can see them coming. Rocket Mortgage should have to do the same. They should be required to be upfront with customers that they are not offering a better deal. What Rocket offers to their clients is an easier way to get a mortgage, but for a premium price. As read from my experience and the stories from other consumers on Amazon and other websites, they clearly lure customers in with low rates before closing with $5,000 mortgage points fees at the end. This is just wrong.
I end with this appeal; How many regular people without the time/expertise to research what Rocket is doing, just pay the $4,800 in points, grin and bear it? Especially from minority groups across the U.S., how many $4,800 bonuses does Rocket take from Black and Hispanic home buyers on a daily basis who trusted the company for what they advertised? This is my point and this is why I am sharing my story in hopes that something can be done to help future home buyers.